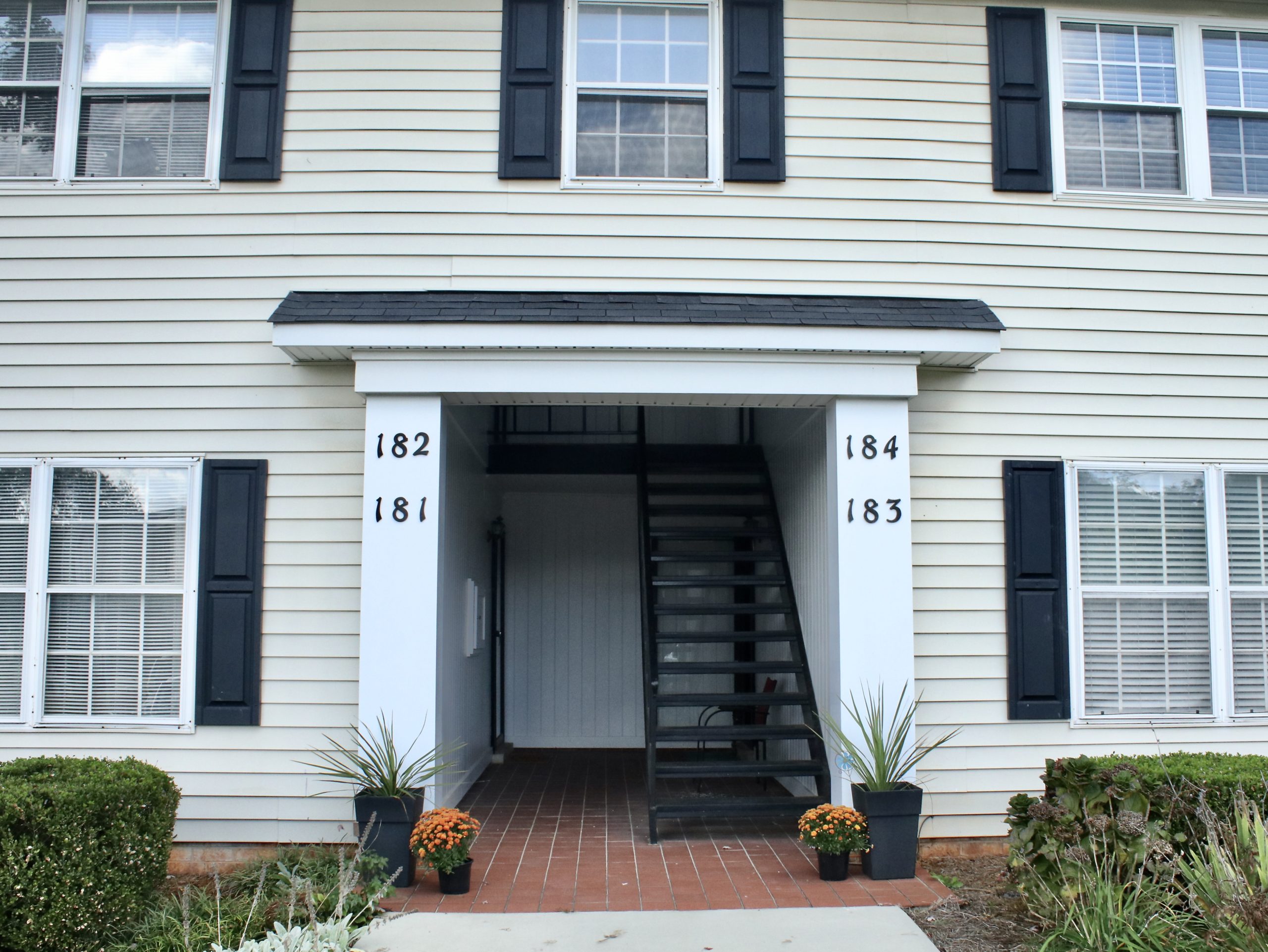 925 Cleveland Street 29601
1 Bedrooms, 1 Bathrooms
Photos are from the property location of the vacancy and are either of the exact vacant unit or of an equivalent unit.
Rent: $980/month
Security Deposit: $700
A first-floor unit, 183 Riverbend was purchased in 1995 and was the first we bought of the "Phase II" units, which was the second stage of construction when Riverbend was first built as an apartment complex. The unit has been fully updated with granite countertops and stainless appliances in the kitchen; the kitchen, bath, and screened in porch have ceramic tile floors. Most of the rest of the condo is floored with a synthetic plank that looks and feels like wood flooring; only the bedroom and walk in closet are carpeted.
This floor plan (870 square feet) is larger than the first unit we purchased at Riverbend, and offers a separate dining room between the living room and the kitchen, a laundry closet in the kitchen, and a front door that opens directly to the outside (instead of into a shared inner hallway with one exterior entrance for four condos). I love the screened porch off the back entrance as well.
Riverbend is a large gated community and #183 is located alongside Faris Road on the perimeter of the grounds, but is shielded from traffic along Faris by a row of tall, fully developed Leland Cypresses. The location offers great access to the Swamp Rabbit Trail and Cleveland Park through the side entrance to Riverbend.
Another plus is the general location in Greenville — Riverbend is nestled within a curve of the Reedy River, just a few yards from the Prisma Health Swamp Rabbit Trail, an access point for miles of cycling and running opportunities, and less than a mile from the Caine Halter Family YMCA. The Prisma Health Life Center is two miles away.
On the Pleasantburg side just a few blocks to the east are numerous restaurant options; Pita House (Middle Eastern), Frodos' Pizza "The Original", and Grateful Brew (a coffee shop) are around a mile away. Travel two miles to the India Palace (Indian) and Red Bowl (Asian) restaurants. Greenville Technical College, The Fresh Market, (a gourmet supermarket), and Publix Super Market at McAlister Square anchor that end of South Pleasantburg as well.
On the Augusta Road side you'll find an array of small niche shops that cater to a variety of needs, not to mention a Southern-style restaurant, Chicken Salad Chick, The Bakery off Augusta, The Blockhouse Restaurant, Davani's, and Augusta Grill — all within about 1 to 1.5 miles from #183 Riverbend.
To learn more about a property, contact Nancy at nancy@southlandproperties.org. To find out if there are vacancies, check out our vacancies page.
If you are interested in living in a SouthLand home but don't see any vacancies or are planning to move to the area at a later date, sign up for our vacancy alerts to receive notice of openings first.